Movies came out a few days earlier this week, just in time for all those off for the holidays. If you are one of those lucky ones, here's how you can spend your time:
Aliens VS Predator: Requiem

Warring alien and predator races descend on a small town, where unsuspecting residents must band together for any chance of survival. This film will probably be very similar to the dozens of previous films in both categories. Haven't seen it, won't plan on it.
The Bucket List

Two terminally ill men escape from a cancer ward and head off on a road trip with a wish list of to-dos before they die. Two legendary actors in one film, could be something worth spending your money on.
The Great Debaters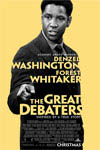 A drama based on the true story of Melvin B. Tolson, a professor at Wiley College Texas. In 1935, he inspired students to form the school's first debate team, which went on to challenge Harvard in the national championship. Another true story film for Denzel. If it's half as good as his last true story film, then this one should be a winner, even though I've never heard of it.
The Water Horse: Legend of the Deep

A lonely boy discovers a mysterious egg that hatches a sea creature of Scottish legend. Should be a good film for family and children.
imdb.com
And that's Whatz Slammin at the Box Office.